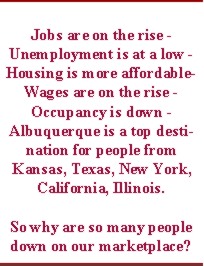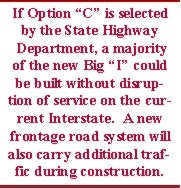 "WHAT'S NEWS..."


Originally appeared inNew Mexico Apartment Report Vol. 5.2 - Q2'98
Are we affordable or not? Albuquerque plummets from the top of list - as housing stock becomes more affordable. According to the National Association of Home Builders, Albuquerque is now the 50th least affordable market to live in (down from the previous years records of 11, 13, and 36.) UNM's Director of Research, Brian MacDonald attributes the decrease to a slowing economy and dampened demand for housing - "Home prices have sort of topped off. You're not seeing that rapid increase in home prices that we had in the mid-1990's." Although the decrease is good for the consumer, there are still 142 communities in the nation that are still more affordable. For all of those supporting the "no growth" method - take note - Portland, Oregon is #3 on the list. Wages on the rise New Mexico's income growth is 47th in the country at 4.1% increase from 1996, slightly below the national average of 4.8%. Unemployment in Albuquerque MSA New Mexico's unemployment rate remains fairly constant at 6.4% as of March 1998. As it relates to the balance of the country, New Mexico is 1.7% higher than the national average, and is 46th in the country behind the lowest state, Nebraska, at 2.2%. The Albuquerque MSA is currently below the national average at 4.4%, followed by Santa Fe at 3.5% and Las Cruces at 9.7%. (Believe it or not - 6.4% is low - and the low rate causes some companies to look elsewhere for potential labor force.) Vital Statistics Albuquerque witnessed a net increase in local non in-migration population of 3,313. Local non in-migration numbers are calculated by subtracting the number of births (6,681) from the number of deaths (3,368). This number is down from the 1980 high of 4,650. Around the State Albuquerque - US Air Force plans to build $14.6M flight simulator at Kirtland … UNM may privatize some of the University Hospitals testing services, thus saving $10.5M …. St. Joseph's intends to develop a hospital for heart care - totaling $30M for a 55 bed facility (and I thought apartments were expensive) … CIGNA will close its claims office spreading the work to out of state call centers … Karsten Manufacturing is opening its plant this summer - for ---- Manufactured housing … Bio Tech Imaging has opened a virus-research laboratory employing 11 and studying amongst other things the hantavirus … Popular Outdoor Outfitters is building its first location in Albuquerque … Rio Rancho - Target opens its first store (122,000 sf) … two hotels (Hilton Garden Inn and Extended Stay America) are currently under construction … Nations Bank is building a national call center using $14M in IRB's … Intel is relocating some 211 employees out of state ... Sprint PCS has announced a 150,000 square feet call center ... Intel announced it has hired 1,628 new employees in 1997, up from 1,073 people in 1996. Santa Fe - Zydeco (Yates Drilling) - has plans for a 28 room hotel at Paseo de Peralta and Guadalupe … Community Bank is planning a new location of 14,250 sf … Las Cruces - US Army intends to downsize employment at White Sands Missile Range by 350 civilian jobs due to a $17M budget shortfall. Tucumcari - Desert Shrimp broke ground in January on property just west of the city for a $12M project that will employe 55 people. Clovis - Cannon Air Force Base may receive 183 additional military personnel who will use the airbase for training for the Republic of Singapore Air Force. (thanks to the NM Department of Labor) Interstate Freeway updates - could they impact your community? At a recent presentation by the State Highway department, the following information was disseminated on the planned Interstate update through the next five years: 1. Juan Tabo interchange - February - September 1997 - completed at a cost of $9.1M complete reconstruction of interchange and bridge. 2. I-40 from Juan Tabo to Tramway - June 1997-August 1998 - Reconstruction of eastbound I-40 and Tramway bridge - $8M funded/$2M needed. 3. Wyoming Interchange - January 1998 - December 1998 - complete reconstruction of Wyoming/Lomas/I-40 interchange - $6.7M funded/$1.3M needed. 4. Carlisle Interchange - January 1998-December 1998 - Reconstruction of Carlisle/I-40 interchange -$5.9M funded/$5M needed. 5. I-40 east bound from Wyoming to Juan Tabo - June 1998 - April 1999 - reconstruction. $11M funded. 6. Louisiana Interchange - March 2000 - September 2001 - reconstruction of interchange - $3.9M funded/$11.5 needed. 7. I-40 westbound from Tramway to Eubank - April 2000 - February 2001 - reconstruction - contingent upon funding of $12.5M 8. San Mateo Interchange - Sept. 2001 - Sept. 2002 (dependent upon completion of Louisiana) - reconstruction - $1.7M funded/$5.3M needed. 9. I-40 Westbound from Eubank to Louisiana - Start 2002- complete 2003 - contingent upon $12.5 of funding. 10. Coors Interchange - 2002-2003-4 - complete reconstruction - $24M - unfunded Big "I" reconstruction - $200M (mostly federal funds) - favored option "C" - frontage road system within the interstate right of way, which runs parallel to I-25/I-40 through the Big "I". Could start late 2000. Questions? Call Steve Harris 841-2730 & Thanks to the New Mexico Highway Department. Albuquerque Facts Did you know… · The Sandia Peak Tramway has traveled 115,303,500 miles since May of 1966. This is equal to 8 trips to the moon. · In 1997 the Kodak Albuquerque International Balloon Fiesta hosted over 950,00 visitors. · Over 1 Million people skied New Mexico Ski areas during 1996-1997 ski season. · The New Mexico State Fair hosted just under 1 million visitors in 1997. · The Gathering of Nations attracted over 90,0000 visitors in 1997. · In 1996-7 Albuquerque was home to the filming of numerous major motion pictures: Independence Day, Contact, and Fools Rush In. · 75 tons of chile were used at El Pinto Restaurant in 1997. · The Albuquerque International Sunport (airport) sees an average of 17,000 passengers come and go each day. In 1997 they handled over 6 million passengers. · Visitors come to Albuquerque from throughout the nation, with Kansas, Texas, New York, California, and Illinois leading the way. · Albuquerque visitors spend an average of $230 per day. · Visitors spent over $1.16B in Albuquerque during 1996-1997. · Average travel party size is 2.8 people · Tourists stay an average of 4.1 days in Albuquerque · Albuquerque Hospitality industry supports 18,000 jobs · Why visitors choose Albuquerque as their vacation destination: Cultural/Historical Opportunities, Beautiful scenery and landscape, pleasant year-round weather. · Albuquerque Tourism produced $22M in local taxes in 1996-1997. · The three ACVB visitor information centers assisted 285,542 visitors in 1997. If your apartment community is a member of New Mexico Apartments Online - we contact each of the people who request info from ACVB and forward to them information on the website. Thanks to the Albuquerque Convention and Visitors Bureau (ACVB) for the information.