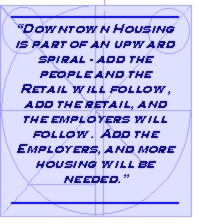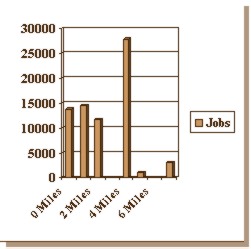 "IS THE CITY READY FOR DOWNTOWN HOUSING?"


Originally appeared inNew Mexico Apartment Report Vol. 5.1 - Q1'98
As Albuquerqueans struggle with growth issues, one solution has moved to the forefront: locating housing in the downtown area. Late last year, we were hired to perform a feasibility study for the City of Albuquerque, on downtown housing. As part of our research, the following downtown dynamics were compiled: To really understand downtown, we need to look at a before and after picture of downtown Albuquerque: Before (1870-1900's) 4 Town center had shifted from Oldtown to Downtown - in anticipation of meeting the new railroad 4 Population: 1,307 4 San Felipe Hotel built 4 1890-City incorporates with population of 3,785 4 1901 - Fred Harvey Hotel Opens 4 1912 - NM becomes 47th state After (1960's - Today) 4 Retail shifts from Downtown to Uptown 4 Population: 665,000 4 1960's - Federal government subsidizes local downtown "reurbanization" by providing demolition $. 4 City demolished over 100 downtown buildings - replaces them w/parking lots 4 '72-San Felipe hotel demolished 4 '87-Alvarado hotel demolished 4 Hyatt Hotel built 4 Convention Center expanded Downtown Today Albuquerque's downtown is one last to undergo a "gentrification" in the western part of the USA. In 1996, Local and Federal government develop "point" program to incentive development in core area (1995 - Civic Center undergoes dramatic expansion, 1996- City/County purchase additional downtown office buildings, 1996- City purchases AHS - RFP's to developers, 1997- New federal courthouse starts construction) Downtown Employment According to Albuquerque Economic Developments major employer list: 4 Over 20,000 jobs are located downtown 4 Additional 40,000 jobs are located within a 7 minute drive 4 Downtown is 5 minutes to the Airport 4 Downtown is equi-distant between North I25 Business district/West Side's Atrisco Business Park and Uptown CBD/Airport Business Parks 4 Downtown is closer to more employers than any other area of town 4 (Employment statistics do not include small businesses) According to Albuquerque Economic Development, several major employers have viewed our downtown, with the following results: 4 Sprint - added 200 new jobs - liked abundance of close parking, restaurants 4 America Online - passed over downtown (after a hotel stay) - due to lack of extended hour's restaurants and entertainment. 4 Project "Dallas" would add 300 jobs - has considered downtown - would like to see more housing, more parking, and see the city address security issues (lighting, police patrols, perception of crime) 4 Project "Maple Leaf" would add 250 jobs - will probably skip downtown as they need more parking than typically exists 4 Project "Minnesota" is downtown oriented - and was disappointed with lack of after hour services (apparently their workers work around the clock in shifts) and has decided to bypass Albuquerque entirely. 4 For Downtown to attract more companies it needs: free parking (on par with other areas), quality housing, recruitment of extended hours services and restaurants, address perception of security and mass transit. So what does downtown need? 4 For Gentrification to occur, Downtown needs to grow a stabilized residential base that will, encourage national and local expansion on a retail level, thus bringing in more employers who require downtown housing and continuing an upward spiral that similar to Denver, Dallas, Houston, Ft. Worth, San Diego, San Francisco, New Orleans, Manhattan, and other have witnessed in their downtown CBD's. Stabilized housing will add to the quality Albuquerque Country Club to the west, and to the Alvarado Apartments to the south. Housing needs to include rental and ownership, from affordable to luxury levels. What does downtown offer? 4 Downtown is close to the three major sports complexes 4 Downtown is close to Museums 4 Downtown is close to #2 & #3 tourists spots in NM (Old Town and Indian Pueblo Cultural Center) 4 Downtown is the focal point of most major forms of transportation (intersection of Interstates, Railroads, Airport shuttle, local and regional buses) 4 Downtown is located in the middle of three golf courses 4 Downtown is located adjacent to the Rio Grande Zoo, Botanical Park, Aquarium and other cultural amenities. 4 Downtown is the gateway to several communities, ethnic groups, and periods in time. Who will live downtown? Part of out study focused on potential and/or existing downtown housing tenants: • Downtown or Cultural-Amenity by Choice residents – – Young Urban Professionals (paralegal, nurse, accountants, graduate assistants, etc.) – these individuals are typically in their late 20's to early 30's and are starting out on their professional careers. Typically single, or recently married, they work long hours, and do not have time to shop, eat, commute, or enjoy life. What little free time they enjoy will focus on close by cultural amenities and "cocooning" in their above average residence. – Empty nester – couples who have recently sent their kids off to college (and do not want to have room for them to move back in), and are looking for a "simple life (like the book), with less commute and easy access to amenities. Although there will always be individuals who prefer downtown, more retail (i.e. Starbucks, Borders, Dean & Delucca (groceries)) will have to be within walking distance. – Upper echelon transitional lifestyle resident – this individual (not a couple) has recently undergone a divorce, or separation or mid-life crisis. Primary concern during their brief tenure (less than one year) is ease of access to work, gyms, and singles hangouts (i.e. bars and restaurants). • Close to Airport residents - These professional sales or services are individuals or couples who travel with frequency (2 to 6 times a month) for short day or overnight trips. Their long work hours and harried work schedules encourage them to maximize quality home time by avoiding long commutes to work or to the Airport. Currently housing needs are being served by the Alvarado Apartments or Lake & Racquet. These same individuals may currently work out of their home and as such, may require an extra bedroom or "home office". • Student residents - Student housing has gone through twenty-year demand cycles, with the end of another cycle starting this year. Although the actual cause of demand is difficult to pinpoint, the expense of housing, long travel distance to campus, turnover of grandfathered zoning conversions, and increase in enrollment (thanks to the NM lottery program), have caused a recent demand for student housing. (UNM intends to address this when land leases along the Lomas/University corridor expire in the next couple of years.) • Families who want proximity to award winning education: - Both APS and the Catholic school systems have elementary level schools located in the downtown area. The lack of quality affordable housing in the area has kept this class of tenant outside of this sub-market. As you can see, plans for downtown are vibrant, financed, and ongoing. Please stay tuned for the next issue on downtown housing. (if you can't wait for the next issue - please view info on downtown at our website http://www.nmcomreal.com/nmcomreal).