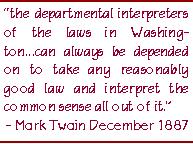 "Legislative Update"


Originally appeared inNew Mexico Apartment Report Vol. 4.2 - Q2'97
As you may know, I am involved with one of the legislative affairs committees for the CCIM organization on a national level. The following are the latest updates on a national, regional, and local level of bills that congress is currently considering or has recently passed: Capital Gains The pendulum that represents the treatment of capital gains as it relates to the "profit" on the sale of real estate, has had wide erratic swings during the last 15 years. In 1981, Congress lowered capital gains to 20%, but reversed their decision in 1986 by raising it to 28%. As of May 7, 1997 Congress has lowered capital gains 20% for properties held more than 18 months. Properties owned prior to 1997 will be taxed at a hybrid rate of 25% on their recaptured deprecation while the capital gains will be tax at 20%. Residential home owners with a residence valued below $500,000 will be able to sell their home without paying capital gains tax (Property managers – look for increased conversion from home owners to apartments now that there is not a "tax penalty" holding these potential residents back). Takings The Fifth amendment states "No person shall..be deprived of life, liberty, or property, without due process of law; nor shall private property be taken for public use, without just compensation". Takings has become a gray area in that local, state or federal governments do not actually condemn a property, but rather prohibit development from occurring. House Resolution 1534, the Private Property Rights Implementation Act, passed the House on 10/22/97. According to the text of this bill, "this bill is to simplify and expedite access to the Federal courts for injured parties whose rights and privileges, secured by the United States Constitution, have been deprived of final actions of Federal agencies, or other government officials or entities acting under color of State law; to prevent Federal courts from abstaining from exercising unsettled State law questions that are essential to resolving Federal claims arising under the Constitution; and to clarify when government action is sufficiently final to ripen certain Federal claims under the Constitution." Water Rates Keep an eye on a new City of Albuquerque ordinance that could be very expensive for apartment owners. The proposed ordinance is in draft stage only, (as of 8/18/97), would treat large water users (like apartments) on a different scale as single family residential, without acknowledging the fact that there is a "per unit cost" for apartment communities. This bill is full of compliance and penalty issues that may be extremely cost prohibitive for both new construction as well as existing communities. FCC adopts new inside wiring rules The FCC has provided their interpretation of the 1996 Telecommunications Act, and as this interpretation is long, and likely to impact few of people in our marketplace, I have not included the text. Please call if you would like a full copy of what telephone and cable operators are allowed to due on your property. Civil Asset Forfeiture Originally written to allow the government to seize pirate ships, it has recently been "remodeled" to add another tool to combat drug use. Unfortunately, landlords have had their properties seized (but have still been obligated to pay the mortgage), when tenants have been caught dealing drugs on the property. Fighting to recover their properties has become a long drawn out process, with expensive legal bills. House Resolution 1965 would reform these laws with the following seven changes: 1) puts the burden of proof on the government by requiring them to show a "preponderance of the evidence"; 2) allows for the appointment of counsel to indigents; 3) ensures that property owners who took reasonable steps to prevent illegal activities on or with their property cannot be subject to forfeiture; 4) eliminates the cost bond requirement from owners; 5) gives a property owner up to 30 days to contest forfeiture; and 7) allows the property to be returned to the owner pending final disposition, if hardship would otherwise result. Deregulation of Electricity Although there are several large outstanding issues on how to handle deregulation, Congress has made a commitment to "give all American Electricity consumers the right to choose among competitive providers of electricity, in order to secure lower electricity rates, higher quality services, and a more robust United States economy." Occupancy - HUD and Legislation At the present time HUD has not issued federal regulations on occupancy standards but has deferred back to the "Keating Memo" for occupancy guidance. The "Keating Memo" states that a two person per bedroom standard is generally reasonable. Congress has not passed legislation regarding this issue at this time. Fair Credit Reporting Act Recent changes were made that directly impact apartment owners, were included in the 1996 Budget Bill that amend the Fair Credit Reporting Act (FCRA). These new provisions were just a small part of the bill, but are very important to what is required of real estate practitioners. Up until now, owners or managers rejecting tenant applicants based on credit information have simply been required to advise the applicant against whom the adverse decision was taken of the name and address of the agency providing the information. Effective September 30, 1997, more detailed information must be provided to a rejected applicant. Also effective September 30, 1997, consumer credit reporting agencies are required to provide notice to persons who buy consumer information from the consumer reporting agency of the user's responsibility to notify applicants regarding the use of that information in making the adverse decision. NM Apartment Report has posted a sample letter for your use to our web site at http://www.nmcomreal.com/nmcomreal.